I never wanted to be a copywriter when I grew up.
I didn't even know what that was. (Maybe you don't know what that is.)
Copywriting is the use of words and ideas to promote a person, business, opinion or idea. Although the word copy may be applied to any content intended for printing (as in the body of a newspaper article or book), the term copywriter is generally limited to promotional situations, regardless of the medium…
According to Wikipedia
If you are using a blog, Facebook or any other social media or website to promote your business, congratulations, you are a copywriter too.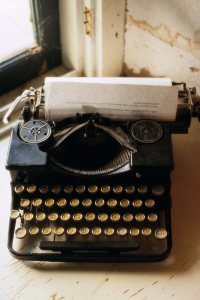 I was never much of a writer, I was a C student in English and got a lot of that red pencil markup crap that English teachers like put on papers in my creative writing course in college. Plus, I'm a lousy speller.
In fact, I  remember plain as day, when I was a kid I would always ask my Dad, "how do you spell 'insert random word here'"?
"Go get the Encyclopedia, that's why I bought the damn thing!" was Dad's perennial response. (I'm still not clear on why he didn't tell me to get the dictionary.)
I would reluctantly, but dutifully retrieve a volume of the World Book Encyclopedia to try and look up the word, which helped like a hole in the head because I didn't know how to spell the flippin' word! He meant well.
Fast forward to today. Spell check. Thank Gawd! I'd be screwed without it. Grammar check? Who needs it? You can throw out those rules.
I'm serious!
You aren't writing for an English teacher or some faceless corporate audience. You're talking to regular people.
Anyway, at the beginning of my career in online marketing, the first thing I learned is that you need to have an ezine (or email newsletter) going out to your list on a regular basis. That meant I had to learn how to write. So I bought a course on how to write copy from Lorrie Morgan-Ferrero. I devoured the course and began writing. It sucked.
At first.
Turns out I just needed some practice, and in a short time I was able to write some pretty decent articles. The more I did, the easier it got.
A few years later, I got into blogging (it was pretty new, hip slick and cool back then). Then I was hired to create and write a real estate blog for a client. It got a lot of traffic, and it was easy to do. I just wrote about what people wanted to know.
I couldn't understand why everyone wasn't doing this. I figured if I could do it, me, a semi-illiterate, C English student, then anyone could do it. That led me into teaching marketing classes to the other agents in my office at Coldwell Banker.
Hmmm, that was a long way to go for the punchline. Here are my tips for making writing more, easy. 🙂
Start out with a GREAT headline. And here is a little helper for you. Jon Morrow of Copyblogger fame is giving away his free report 52 Headline Hacks to help you write killer headlines, one for each week of the year. Get the report, do the work and half the battle is over.
Write like you talk. I have yet to meet a business owner who doesn't like to talk, so just pretend you are having a conversation with a client or prospect. Write what you would say to them.
Solve a problem. You are the expert in your field, and people are looking for the solutions you already know. The answers seem obvious to you because you are good at what you do. I promise, they are NOT obvious to the person looking for help.
Write to one person. Instead of writing for the entire world or your entire audience, try focusing on helping just one person. Since your reader is the only one in their head reading your post or article, it will feel like you are talking just to them. Cool.
Be yourself. Go ahead and inject your personality in your writing. If you are a wacky kind of person, be wacky in your writing.  If you're sassy, write sassy. If you're…well, you get the picture.
So, go ahead and get started. Don't worry if your stuff sucks at first, it'll get better. I promise.
Got questions? Leave a comment below. Got friends? Please share this article with them.