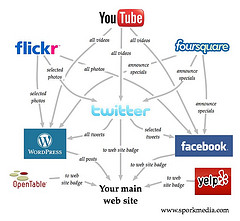 Wow, that was harsh.
(But it just might be true.)
As you might have guessed, this is going to be a bit of a rant, but if you'll bear with me, I promise to make it worth your while.
What I want to address here is the overuse or misuse of automation with social media. That is, using software (WordPress plugins, TweetDeck, Ping.fm, HootSuite, spam bots, etc.)  to automatically post your content to multiple social media sites like Twitter, Facebook, and Google+.
Now don't get me wrong, using tools to manage your social media marketing is pretty much a necessity if you're going to be at all productive during your work day. I personally use Buffer on a daily basis. So, I'm not saying don't use automation, I'm saying to use it the right way (and hopefully a more effective way).
Right now I'm testing out a service called ifttt.com (if this then that) which allows you to create "recipes" for auto-posting selected content from one site to another, such as when sending out a Tweet with a certain hashtag, it gets posted to your blog too. This way you can be more specific about what you share on multiple sites. When I've thoroughly tried it out I'll share my findings with you.
Here's Where the Trouble Starts
In our best efforts to manage our social media marketing, spread the word about our products and services and get new customers and clients, we may be inadvertently pissing off our followers instead. Not only that, but there's a point at which it's just plain lazy trying to use tools to share our content when we could do it better in a few minutes manually.
Case in point
I was recently asked to diagnose the problem with a WordPress plugin that automatically Tweets, sends a status update to Facebook and to LinkedIn when a blog post is published. It wasn't posting correctly or pulling the image thumbnail. The reason that the plugin wasn't working is irrelevant, what is relevant is:
Publishing the new post to these three sites would take about 3-5 minutes to do manually
In those 5 minutes you could tweak the message so that it's more relevant to the audience on each of these sites; Twitter, Facebook and LinkedIn
You might actually connect with people (which hopefully is what you are trying to achieve)
Another important point is that if I'm doing what you want me to do by following you on all your social networking sites, and I get the same exact message from you on all those sites, I'm not getting any value added from following you on multiple social networking sites.
More Trouble
When not managing our auto-posting services correctly, it's easy to lose track of what goes where and have the same Tweet go out 3 times or posted to Facebook two or three times as well. Who the hell wants to see the same thing over and over? I know I don't! I get totally bugged when I'm on Facebook and I see the same status update from someone's profile and business page at the same time. Ugh! Seriously, if that message is relevant to your friends and your followers, by all means, post to your profile and your page, just don't do it at the same time.
Marketing is the life blood of your business, and it's worth spending some time doing it well.
Think about your social media marketing as an extension of yourself, a clone if you will. And let's say you were invited to a cocktail party by one of your friends. So, you brought 5 of your clones with you to the party and each clone has the same exact conversation with each and every person who attended the party. By the end of the evening every party goer had heard the same thing from you and your clones 6 times. Chances are, you won't be invited back.
OK, I've poked you with a stick enough at this point. 🙂
Here's what I suggest you do.
What ever automation tools you choose to use, make sure there is no overlap. If your Facebook status updates get automatically Tweeted, make sure no other tool you use does the same thing. Keep a list, draw a diagram or make a mind map of your automation so you know exactly what is going where and when.
Craft your marketing message to be relevant to the audience for each site you post to. It only takes a few extra minutes to do this and it's SO worth it. If you decide that takes too long and you're going to post the same thing to multiple sites, stagger the posts over time (hours or days) and you'll probably connect with more people in a better way.
Remember that the goal is to start business relationships and conversations with real people, talk with your audience not too them.
P.S. I've made every mistake I  mentioned above, so you're not alone in that. I'm working hard to improve my marketing efforts and I appreciate that you are trying to do the same. What you have to say is important, so don't let it fall on deaf ears.
I would love to hear your take on this, please leave your comment below with your thoughts, experience and/or any tools you use that you absolutely love.