In case you haven't noticed, visual content is now the King of social media. At least for now. I suggest you embrace it immediately or you might be left in the dust.
Just think about this, Facebook has turned it's walls into Timelines for both Profile and Business pages and they just bought Instagram for a cool One Billion dollars. Oh, and Pinterest? It's the third most visited social networking site in the US, and you still need an invitation to join. Catch my drift here?
OK, everybody in the pool, cuz it's HOT out there. Get busy swimming or get busy drowning…
But what to post? That's pretty easy if you sell physical products like coffee, clothes or cars. But what if you sell services or digital products, or your website IS your product?
Let's take a peek at what some innovative companies are doing out there.
On Facebook:
Impact Branding and Design created a campaign featuring 100 stats all marketers should know. 100 individual images with one statistic per image. Check out Stat #1
This is awesome for 2 reasons.
1. They created one (visually appealing) branded image template and then put different content (the stat) in each image.
2. They have 100 ready-to-go posts for their Facebook business page.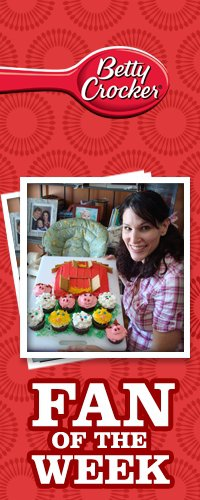 And how about Betty Crocker?
OK, so they do have physical products, but how many pictures of cakes can you post without being boring? So one thing they did is create a Fan of the Week campaign.
Again, it's one branded template and they insert the photo of a different fan each week. Think about what other ways you could use this strategy. If you already have contests, you could feature the winners on your wall or even on your timeline Cover image.
How cool would that be?!
Take this idea and make it your own, one that fits your brand and your marketing strategy.
On Pinterest:
Check out what Mashable is doing. And BTW, Mashable is one of my favorite sites on the web and a great source of sharable information.
They've created boards that match the categories they have on their site, and then some.
Notice that the top center Board is Infographics. These are Über popular right now, so take advantage of that if you can. They also feature the Top 10 Pinterest Pins and a wide variety of images on popular topics that relate to their market. (And if you're into SEO, Mashable's Pinterest Page has a page rank of 5. Not bad for a site they don't even host.)
Now you can take these examples and apply them to your business.
So, here are your takeaways:
1. Get going on creating your own visual marketing campaign.
2. Create as many images as you can in advance so you aren't scrambling to make them at the last minute, or develop a template or system to be able to make your images quickly.
3. Check out some of the big brands, grab some ideas from them and make them your own.
Please leave a comment with your favorite way to use visual content with your audience or share what you liked about this post on Facebook.