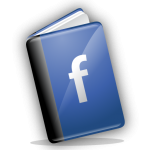 The new Timeline style of Facebook Business Pages has been out for a while and many companies/big corporations have already taken advantage of the opportunity and are using the new features to the fullest. But, I see many smaller businesses (you know who you are!) aren't really getting the most they can out of these new features and may be missing out on additional chances to connect, enhance their brand awareness and, yes, sell more. Come on kids, get with the program already. 😉
I know all the changes to Facebook can be overwhelming and hard to keep up with, so I've broken down my suggestions into 3 sections below. Here's what you should do, read the rest of the post and then work on ONE thing at a time. Deal?
Take Advantage of Your Cover Photo and Profile Picture
Facebook seems to offer more restrictions on what you can't do than suggestions on what you can do. So, I'm giving you their list of Don'ts and my list of Dos below. Here are the boring details that you need to know, the dimensions of the cover image are 851 x 315 pixels and the profile pic needs to be at least 180 x 180 pixels (but displays at 160×160 pixels) and a square image looks best. Rectangular photos will be cropped to a square. And, if you don't know what a pixel is, skip right to Dos #4.
And hey, what you put on your page reflects you and your brand, so please us high-quality images.
Dos
What you should do with your cover photos: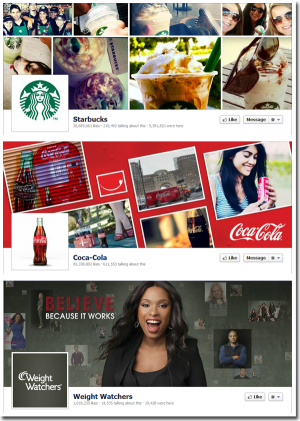 Be creative with what you have on your cover. Make it interesting, visually exciting and relevant to your brand. Check out other business pages for inspiration too.
Change your cover regularly. Seeing the same thing every time your fans go to your page is boring. Don't be boring. Think billboard here. If you drive by a billboard every day, after a while you don't notice it anymore. Keep people interested by updating the cover at least every 30 days. Besides, that helps keep YOU interested too.
Use the cover photo and profile pic in tandem. That is, make the profile pic look like it's part of the cover image. Check out these examples of creative Timeline covers, and borrow some ideas from them. It's not necessarily a good idea to do this every time you change your cover, but it can sure add a cool look.
If you aren't the creative type or don't have the skills, outsource your cover creation. Try a site like Fiverr where you can get a cover made for 5 bucks.
Don'ts
This comes straight from the horse's mouth…
What cover photos cannot include:

Price or purchase information, such as "40% off" or "Download it at our website".
Contact information such as a website address, email, mailing address, or information that should go in your Page's "About" section.
References to Facebook features or actions, such as "Like" or "Share" or an arrow pointing from the cover photo to any of these features.
Calls to action, such as "Get it now" or "Tell your friends".

Covers must not be false, deceptive or misleading, and must not infringe on third parties' intellectual property.
Facebook will drop the hammer down on you if you don't stick to the rules, so be cool here.
You can get more of the low down at facebook.com/about/pages, Customizing How Your Page Looks, or the PDF of the Product Pages Guide for more deets.
Use the New Facebook Features
Now you have some choice as to what your visitors see when they come to your page.
Views and Apps
The first place you can do this is the area that Facebook calls "Views and Apps". Take advantage of the fact that you can put what you want in this area. Add an app to sign up for your Irresistible Free Offer, link to your videos or other awesome information, or something else that adds value to your fans.

Pin Your Post
When you pin your post, it stays on the top of your page for 7 days. Choose your most important posts to pin or posts you want to highlight to your audience. You'll notice a flag at the top right corner of the post. After 7 days, the post will return to the date it was originally posted.
Star Your Post

When you Star your post, the post will now be the full width of the page. This can be really effective for posts with great images that are short and wide. Tall images will look janky. Try it on a few different posts and see what looks good.
Set a Milestone
Milestones are supposed to be used to highlight key moments you want to show on your Page. They are automatically expanded to widescreen and are visible to everyone visiting your Page. I'm sure Facebook wants these to be used for things like having 1000 fans or "Our 10th Year in Business", but I don't see any reason not to use this feature to promote something else, like your upcoming event.
To add a milestone:
Click  in the sharing tool at the top of your Page's timeline
Add a headline, location, date, and details for your milestone
Choose to add a photo
Click Save
Milestone photos display at 843 pixels wide and 403 pixels tall, so be sure your photo looks good at those dimensions.
Engage Your Audience
If you really want to get some results from your page, keep in mind that you are talking with your followers and not to them. It's OK to ask for comments and feedback. Engage them in conversation and reply quickly to questions and comments in a personal way.
Here are a few more tips to keep you rolling down the road to success.
Post daily to your page. Of course, your audience may want more or less from you, but once daily is a good start.
Images and videos get 2x more engagement than other types of sharing. Just sharing a link to your latest blog post is no longer enough.
Share other people's content that adds value to the conversation, and tag their page when appropriate.
Just about anything you do can be undone, so if you make a mistake, so what!
Have fun and don't take this so seriously. Your fans will appreciate it! 🙂
Please leave your questions or comments below, and if you have any suggestions for posts you would like to see, just let me know.